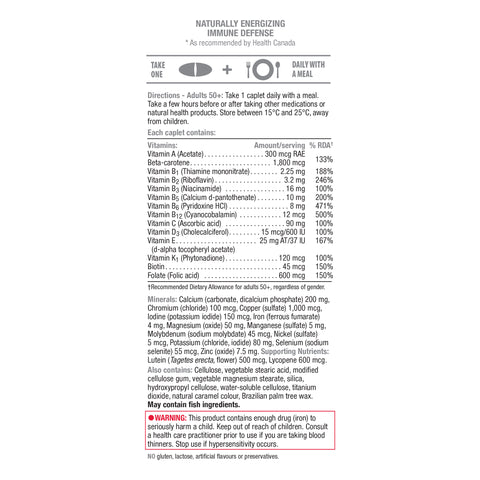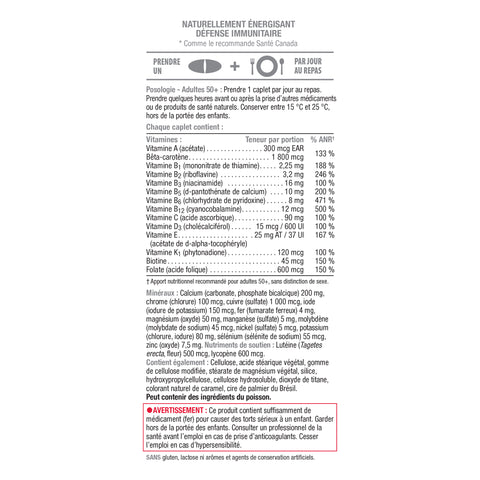 100% Complete Multivitamin for Adults 50+
SKU: 7874
Barcode: 64642078742
Formulated for Healthy Aging
Jamieson 100% Complete Multivitamin for Adults 50+ is the easy way to get 100% of your body's daily vitamin needs. It is formulated to Health Canada's recommendations so you can feel confident you are getting 100% or more of the vitamins your body needs each day!
The Meaning of 100% Complete

One-per-day formula providing 100% of your daily vitamin needs as recommended by Health Canada

With Vitamin C, D3, and Zinc to help maintain immune function

With Vitamin D3 and Calcium to help in the development and maintenance of bones and teeth

Source of antioxidants for the maintenance of good health

With Vitamin A, Vitamin E, and Biotin to help maintain healthy skin

Helps to maintain proper muscle function
Ingredients
Each Caplet Contains:
Vitamin A (Acetate) 300 mcg RAE 133%
Beta-carotene 1800 mcg
Vitamin B1 (Thiamine mononitrate) 2.25 mg 188%
Vitamin B2 (Riboflavin) 3.2 mg 246%
Vitamin B3 (Niacinamide) 16 mg 100%
Vitamin B5 (Calcium d-pantothenate) 10 mg 200%
Vitamin B6 (Pyridoxine HCl) 8 mg 471%
Vitamin B12 (Cyanocobalamin) 12 mcg 500%
Vitamin C (Ascorbic acid) 90 mg 100%
Vitamin D (Cholecalciferol) 15 mcg/600 IU 100%
Vitamin E (d-alpha tocopheryl acetate) 25 mg AT/37 IU 167%
Vitamin K1 (Phytonadione) 120 mcg 100%
Biotin 45 mcg 150%
Folate (Folic acid) 600 mcg 150%
*RDA (Recommended Dietary Allowance)
MINERALS Dosage
Calcium (Carbonate, dicalcium phosphate) 200 mg
Chromium (Chloride) 100 mcg
Copper (Sulfate) 1000 mcg
Iodine (Potassium iodide) 150 mcg
Iron (Ferrous fumarate) 4 mg
Magnesium (Oxide) 50 mg
Manganese (Sulfate) 5 mg
Molybdenum (Sodium molybdate) 45 mcg
Nickel (Sulfate) 5 mcg
Potassium (Chloride, iodide) 80 mg
Selenium (Sodium selenite) 55 mcg
Zinc (Oxide) 7.5 mg
SUPPORTING NUTRIENTS Dosage
Lutein (Tagetes erecta L., flower) 500 mcg
Lycopene 600 mcg
Non-Medicinal Ingredients:
Cellulose, vegetable stearic acid, modified cellulose gum, vegetable magnesium stearate, silica, hydroxypropyl cellulose, water-soluble cellulose, titanium dioxide, natural caramel colour, Brazilian palm tree wax. May contain fish ingredients.
NO artificial flavours.
Directions
Adults 50+: Take 1 caplet daily with a meal. Take a few hours before or after taking other medications or natural health products. Store between 15°C and 25°C, away from children.
Number of Servings: 90
Warnings
Keep out of reach of children. There is enough drug (iron) in this package to seriously harm a child. Consult a health care practitioner prior to use if you are taking blood thinners.
Our 360° Quality™ Promise
At Jamieson, being Here For Your Health means a commitment to the highest quality standards, from ingredient sourcing to the shelf.
This commitment is part of the reason we're Canada's most trusted health and wellness brand.