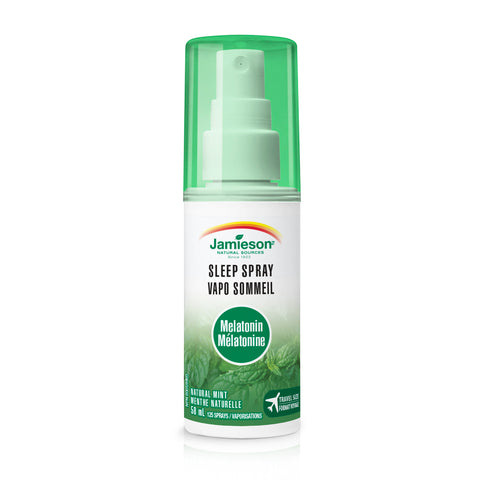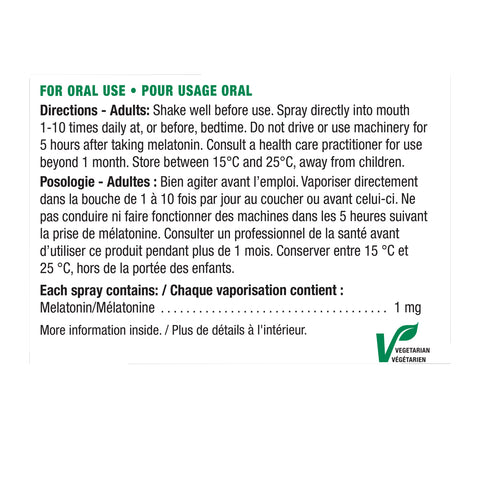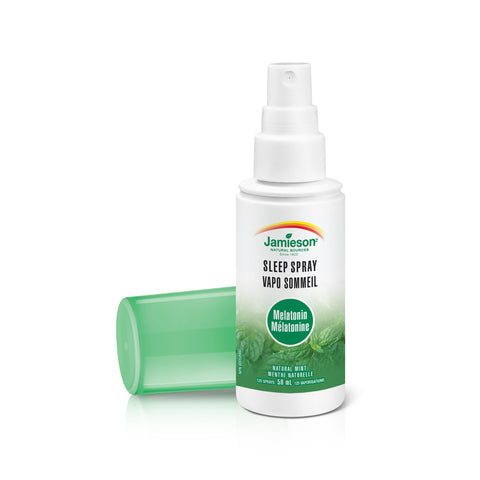 Melatonin | Sleep Spray
Short Dated: Expires 04/30/24. Final Sale.
SKU: 7861
Barcode: 64642078612
Travel-Friendly Sleep Support
Jamieson Melatonin Sleep Spray delivers 1 mg of melatonin in just one second (1 mg per spray) to help increase sleep time and correct disturbances associated with air travel ("jet lag"). This delicious and convenient spray is the perfect option for those who have difficulty swallowing capsules or tablets and fits perfectly in your carry on.
Helps you fall asleep and stay asleep
Helps improve sleep quality
Customizable dosing
Natural, safe and non-habit forming sleep aid
Delicious and travel-friendly spray in natural mint flavour
Ingredients
Each Spray Contains:
Melatonin 1 mg
Non-Medicinal Ingredients:
Purified water, glycerin, apple juice concentrate, natural flavours (enhancer, mint), xanthan gum, potassium sorbate, citric acid, stevia leaf extract.
NO salt (NaCl), gluten, lactose, artificial colours, flavours or sweeteners.
Directions
Adults: Shake well before use. Spray directly into mouth 1-10 times daily at or before bedtime. Do not drive or use machinery for 5 hours after taking melatonin. For use beyond 1 month, consult a health care practitioner.
Number of Servings: 125
Warnings
Consult a health care practitioner prior to use if you are taking: anticoagulant, anticonvulsant, blood pressure, immunosuppressive, sedative hypnotic or psychotropic medications, or steroids; if you have: asthma, cardiovascular, chronic kidney, immune system, liver, depression and/or related diseases, diabetes or hypoglycaemia, hormonal or seizure disorders, or migraines; if symptoms worsen or sleeplessness persists continuously for more than 4 weeks (chronic insomnia). Consumption with alcohol, other medications or natural health products with sedative properties is not recommended.Do not use if you are pregnant or breast-feeding.
Mild gastrointestinal symptoms (nausea, vomiting, or cramping) and rare allergic reactions have been known to occur in which case, discontinue use.
Ingredient Spotlight:
Melatonin
Our 360° Quality™ Promise
At Jamieson, being Here For Your Health means a commitment to the highest quality standards, from ingredient sourcing to the shelf.
This commitment is part of the reason we're Canada's most trusted health and wellness brand.