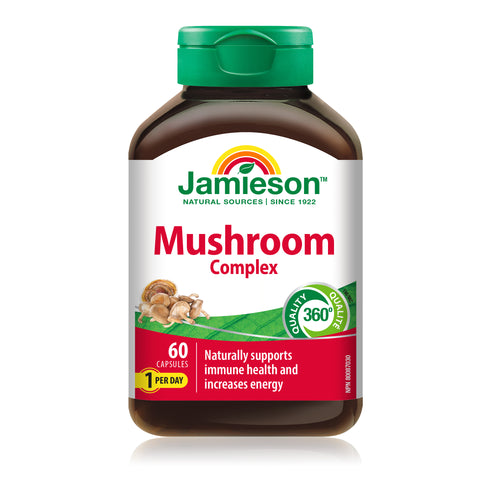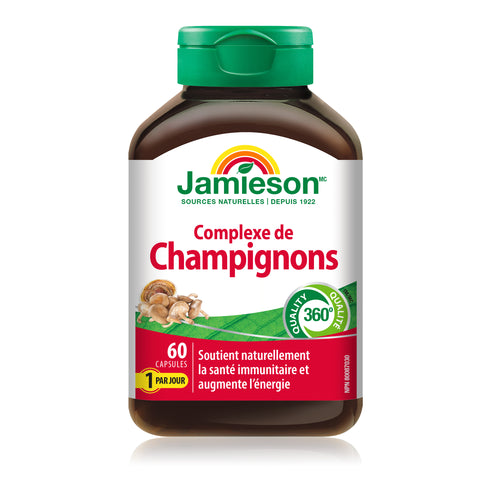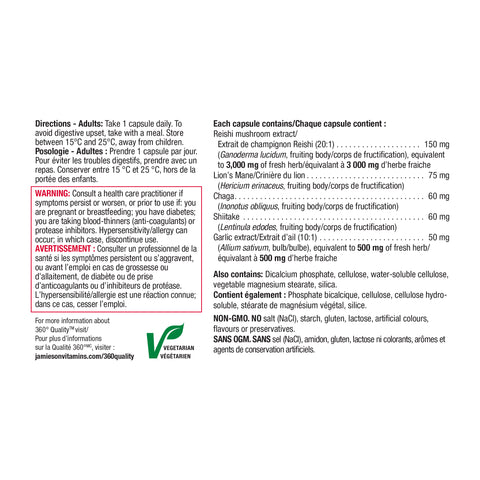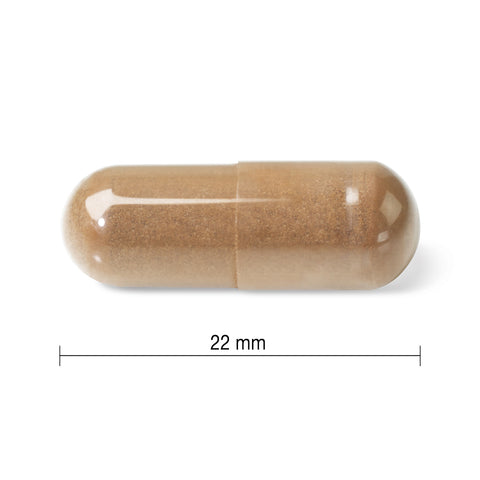 Mushroom Complex
SKU: 9121
Barcode: 64642091215
Immune Supporting Adaptogens
Mushrooms have been used as part of traditional medicine for thousands of years. Jamieson Mushroom Complex is a blend of Reishi, Lion's Mane, Shiitake and Chaga mushrooms, formulated with Garlic to provide a range of benefits, from supporting the body's immunity to increasing energy.
Naturally supports immune health and increases energy
Used in Herbal Medicine as a liver tonic
Used in Herbal Medicine as an adaptogen to help increase resistance to stress
The addition of Garlic helps to maintain cardiovascular health
Ingredients
Each Capsule Contains:
Reishi mushroom (20:1) extract 150 mg
(Ganoderma lucidum, fruiting body), equivalent to 3,000 mg of fresh herb
Lion's Mane (Hericium erinaceus, fruiting body) 75 mg
Chaga (Inonotus obliquus, fruiting body) 60 mg
Shiitake (Lentinula edodes, fruiting body) 60 mg
Garlic (10:1) extract 50 mg
(Allium sativum, bulb), equivalent to 500 mg of fresh herb
Non-Medicinal Ingredients:
Dicalcium phosphate, cellulose, water-soluble cellulose, vegetable magnesium stearate, silica
NON-GMO. NO salt (NaCl), starch, gluten, lactose, artificial colours, flavours or preservatives.
Directions
Adults: Take 1 capsule daily. To avoid digestive upset, take with a meal. Store between 15°C and 25°C, away from children.
Number of Servings:
Warnings
Consult a health care practitioner if symptoms persist or worsen, or prior to use if: you are pregnant or breastfeeding; you have diabetes; you are taking blood-thinners (anti-coagulants) or protease inhibitors. Hypersensitivity/allergy can occur; in which case, discontinue use.
Our 360° Quality™ Promise
At Jamieson, being Here For Your Health means a commitment to the highest quality standards, from ingredient sourcing to the shelf.
This commitment is part of the reason we're Canada's most trusted health and wellness brand.