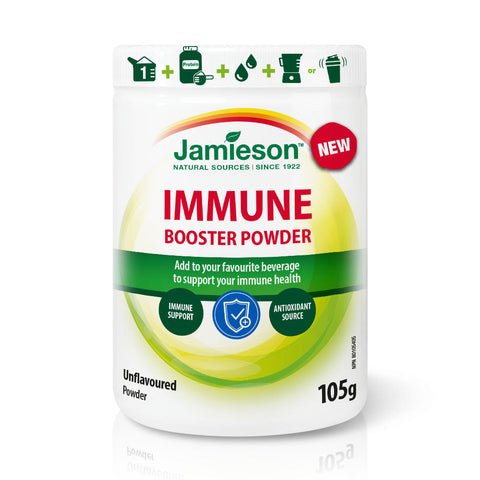 Immune Booster
SKU: 9598
Barcode: 64642095985
Add an Immunity Boost To Your Smoothie
Customize your favourite smoothie or shake with the new Jamieson Protein Boosters! The Jamieson Immune Booster Powder features key ingredients, such as Elderberry, Echinacea and Zinc to help relieve symptoms of colds and flus, bronchitis and supports overall immune function.
Helps to relieve symptoms of colds and flus
Helps to support immune function
Unflavoured to keep same the great taste of your favourite shake or smoothie
Ingredients
Each scoop (3.5 g) contains:
Elderberry extract (4:1) 325 mg
(Sambucus nigra subsp. nigra, fruit) Equivalent to 1,300 mg of raw herb
Vitamin C (Ascorbic acid) 100 mg
Echinacea extract (3:1) 50 mg
(Echinacea purpurea, herb top) Equivalent to 150 mg of raw herb
Ginger extract (6:1) 50 mg
(Zingiber officinale, rhizome) Equivalent to 300 mg of raw herb
Zinc (Citrate) 6.25 mg
Non-Medicinal Ingredients:
Maltodextrin, guar gum, acacia gum, natural flavour enhancer.
NON-GMO. NO sugar, gluten, lactose, artificial colours or preservatives.
Directions
Mix 1 scoop daily into your favourite cold beverage, including protein shakes and smoothies. Take at the first sign of infection. Take a few hours before or after taking other medications or natural health products. Consult a health care practitioner for use beyond 2 months. Store between 15 °C & 25 °C, away from children.
Number of Servings: 105
Warnings
Consult a health care practitioner if symptoms persist or worsen, or prior to use if: you are pregnant or breastfeeding; you are taking immunosuppressants; you have an autoimmune disorder; you have a progressive systemic disease such as tuberculosis, collagenosis, multiple sclerosis, AIDS and/or HIV infection.
Diuretic effect may occur.
Stop use if hypersensitivity/allergy occurs.
Ingredient Spotlight:
Echinacea
Our 360° Quality™ Promise
At Jamieson, being Here For Your Health means a commitment to the highest quality standards, from ingredient sourcing to the shelf.
This commitment is part of the reason we're Canada's most trusted health and wellness brand.