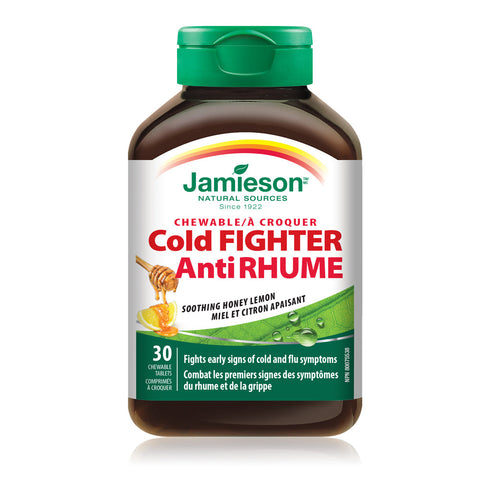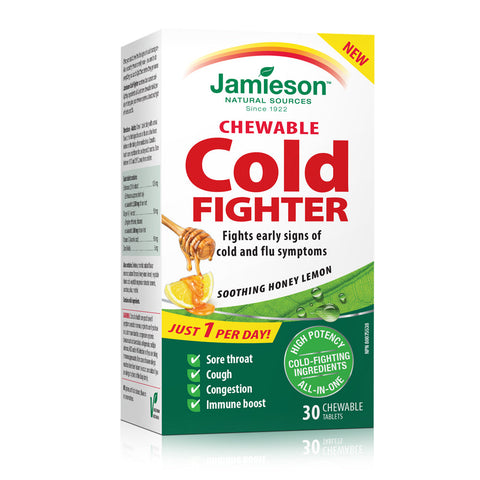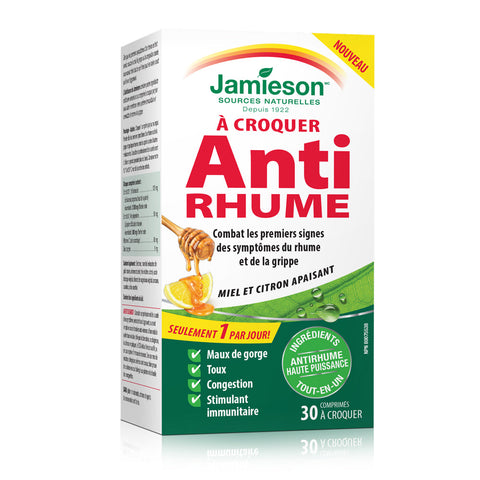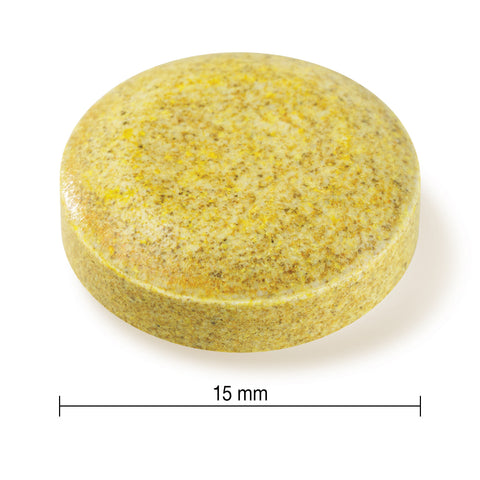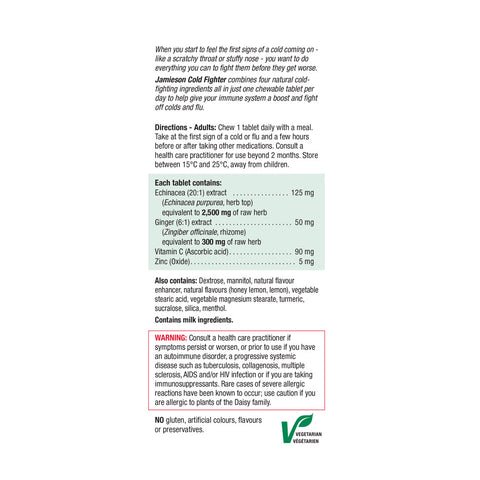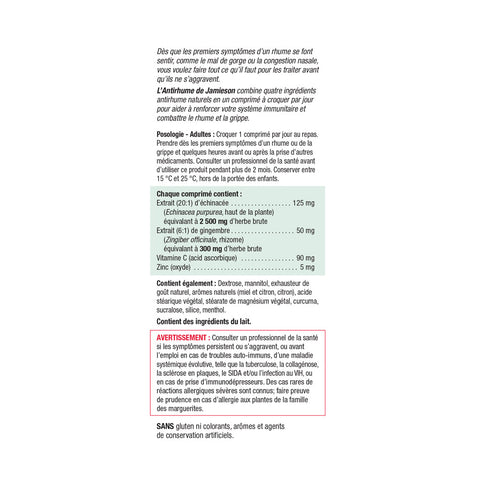 Cold Fighter | Chewable
SKU: 9005
Barcode: 64642090058
Helps Fight Early Signs of Cold & Flu
When you start to feel the first signs of a cold coming on - like a scratchy throat or stuffy nose - you want to do everything you can to fight them before they get worse. Jamieson Cold Fighter combines four natural cold fighting ingredients, all in just one chewable tablet per day, to help give your immune system a boost and fight off colds and flu.
Fights early signs of cold and flu symptoms
Helps relieve sore throat, cough and congestion
Helps shorten the duration of colds
Just 1 per day compared to 3 to 6 per day of the competitors
Soothing, chewable tablets
Ingredients
Each Tablet Contains:
Echinacea (20:1) extract (Echinacea purpurea, herb top) equivalent to 2,500 mg of raw herb 125 mg
Ginger (6:1) extract (Zingiber officinale, rhizome) equivalent to 300 mg of raw herb 50 mg
Vitamin C (Ascorbic acid) 90 mg
Zinc (Oxide) (Echinacea purpurea, herb top) equivalent to 2,500 mg of raw herb 5 mg
Non-Medicinal Ingredients:
Dextrose, mannitol, natural flavour enhancer, natural flavours (honey lemon, lemon), vegetable stearic acid, vegetable magnesium stearate, turmeric,sucralose, silica, menthol. Contains milk ingredients.
NO gluten, artificial flavours, colours or preservatives.
Directions
Adults: Chew 1 tablet daily with a meal. Take at the first sign of a cold or flu and a few hours before or after taking other medications. Consult a healthcare practitioner for use beyond 2 months. Store between 15°C and 25°C, away from children.
Number of Servings: 30
Warnings
Consult a health care practitioner if symptoms persist or worsen, or prior to use if you have an autoimmune disorder, a progressive systemic disease such as tuberculosis, collagenosis, multiple sclerosis, AIDS and/or HIV infection or if you are taking immunosuppressants. Rare cases of severe allergic reactions have been known to occur; use caution if you are allergic to plants of the Daisy family.
Our 360° Quality™ Promise
At Jamieson, being Here For Your Health means a commitment to the highest quality standards, from ingredient sourcing to the shelf.
This commitment is part of the reason we're Canada's most trusted health and wellness brand.