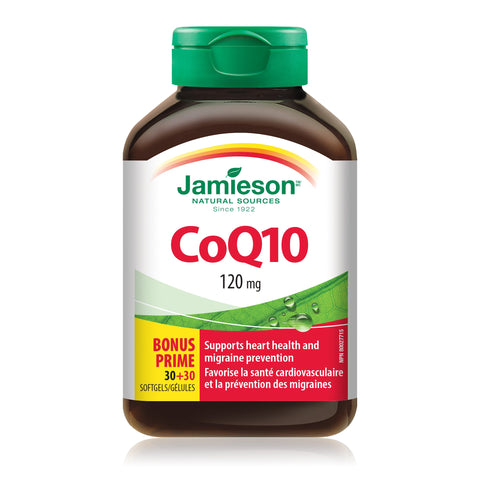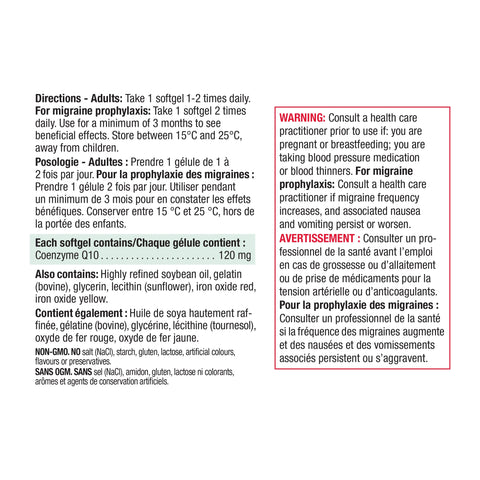 CoQ10 120mg
SKU: 6447
Barcode: 64642064479
Heart Health & Migraine Support
Jamieson CoQ10 is an antioxidant essential for producing the energy that cells require to function effectively. CoQ10 plays an important role in maintaining normal function of the heart. Taking 120 mg or higher of CoQ10 can also aide those who suffer with migraines.
Supports cardiovascular health
Antioxidant for the maintenance of good health
Easy-to-swallow softgel
Ingredients
Each Softgel Contains:
Co-Enzyme Q10 120 mg
Non-Medicinal Ingredients:
Gelatin (bovine), glycerin, soybean oil, lecithin (sunflower), iron oxide red, iron oxide yellow
NON-GMO. No salt (NaCl), starch, gluten, lactose, artificial flavours or preservatives.
Directions
Adults: Take 1 softgel 1-2 times daily. For migrane prophylaxis: Take 1 softgel 2 times daily. Use for a minimum of 3 months to see beneficial effects. Store between 15°C and 25°C, away from children.
Number of Servings: 30 - 60
Warnings
Consult a healthcare practitioner prior to use if you are taking blood pressure medication or blood thinners; or if you are pregnant or breast-feeding.
For migraine prophylaxis: Consult a health care practitioner if migraine frequency increases, and associated nausea and vomiting persist or worsen.
Our 360° Quality™ Promise
At Jamieson, being Here For Your Health means a commitment to the highest quality standards, from ingredient sourcing to the shelf.
This commitment is part of the reason we're Canada's most trusted health and wellness brand.