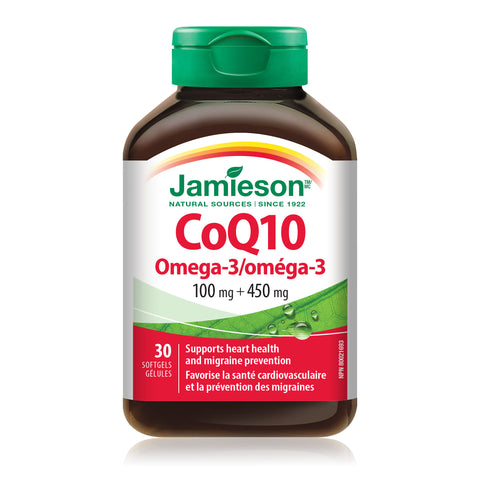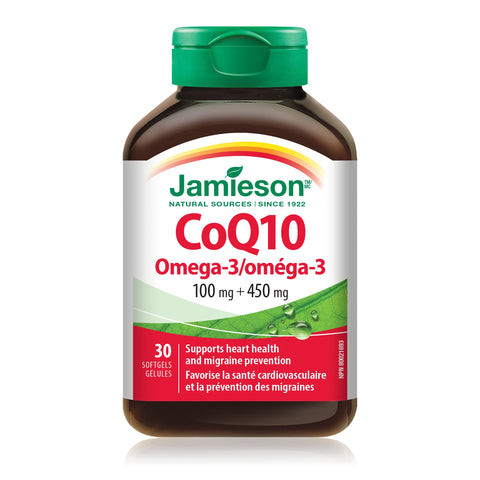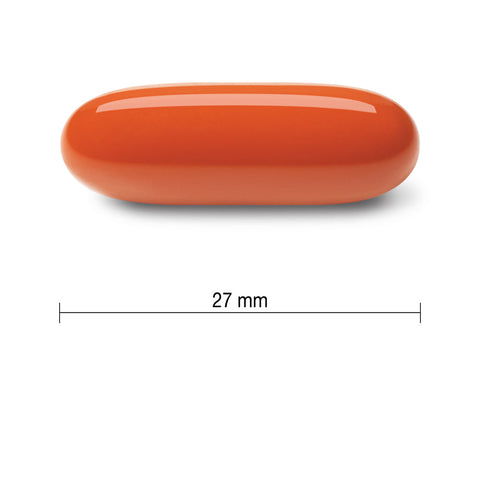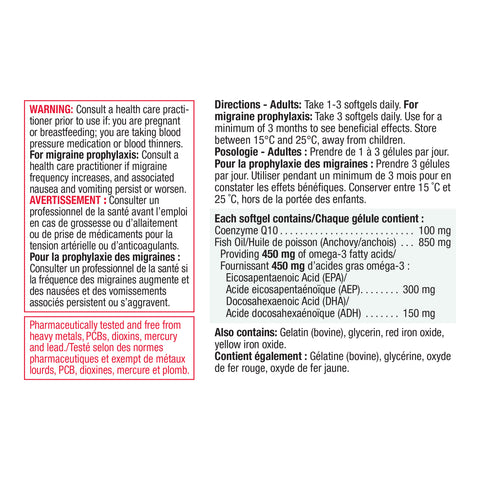 CoQ10 with Omega-3
SKU: 5870
Barcode: 64642058706
2-in-1 Cardiovascular Support
Jamieson CoQ10 100 mg with Omega-3 is ideal for anyone who currently takes prescription statins or would like to maintain cardiovascular health. CoQ10 with Omega-3 is a convenient two-in-one supplement, with each capsule containing 300 mg of EPA, 150 mg of DHA, and 100 mg of CoQ10.
Supports heart health
Natural-bioactive dual action heart health formula with a source of omega-3 to support cognitive health
Ingredients
Each Softgel Contains:
Coenzyme Q10 100 mg
Fish Oil (Anchovy) 850 mg
Providing 450 mg of omega-3 fatty acids:
Eicosapentaenoic acid (EPA) 300 mg
Docosahexaenoic acid EE (DHA) 150 mg
Non-Medicinal Ingredients:
Gelatin (bovine), glycerin, red iron oxide, yellow iron oxide. No starch, gluten, lactose, artificial flavours or preservatives.
Directions
Adults: Take 1-3 softgels daily. For migraine prophylaxis and triglyceride levels: Take 3 softgels daily. Use for a minimum of 3 months to see beneficial effects. Store between 15°C and 25°C, away from children.
Number of Servings: 10 - 30
Warnings
Consult a health care practitioner prior to use if you are pregnant or

breastfeeding; you are taking blood pressure medication or blood thinners. For migraine prophylaxis: Consult a health care practitioner if migraine frequency increases, and associated nausea and vomiting persist or worsen.
Our 360° Quality™ Promise
At Jamieson, being Here For Your Health means a commitment to the highest quality standards, from ingredient sourcing to the shelf.
This commitment is part of the reason we're Canada's most trusted health and wellness brand.