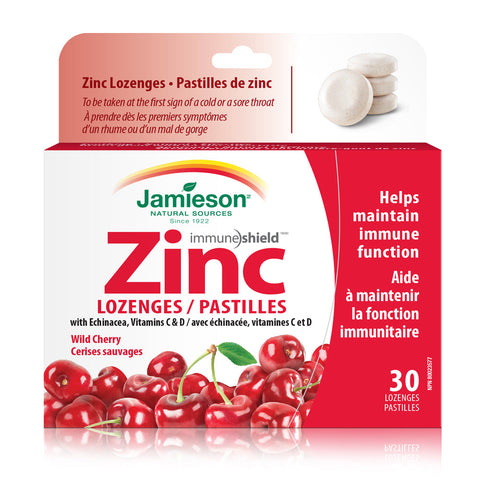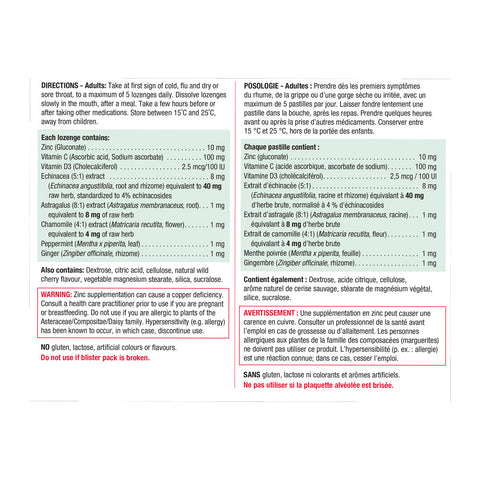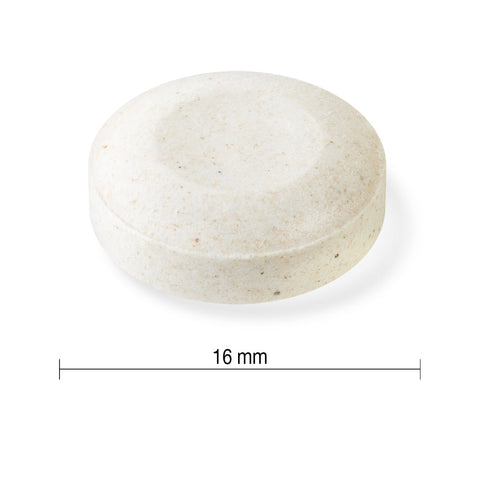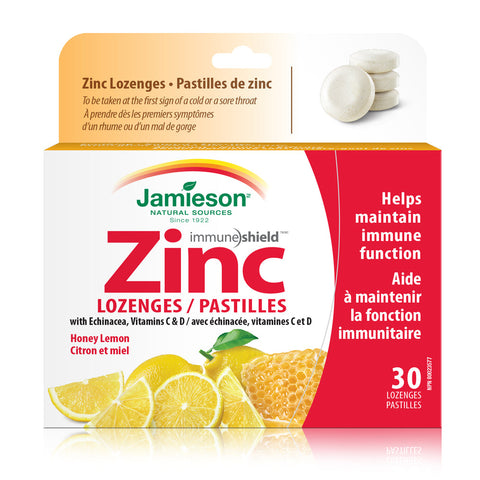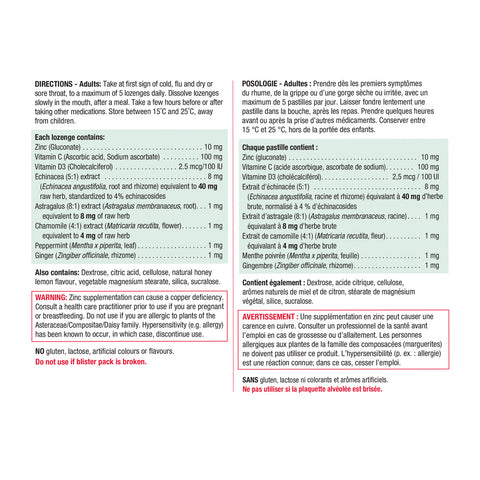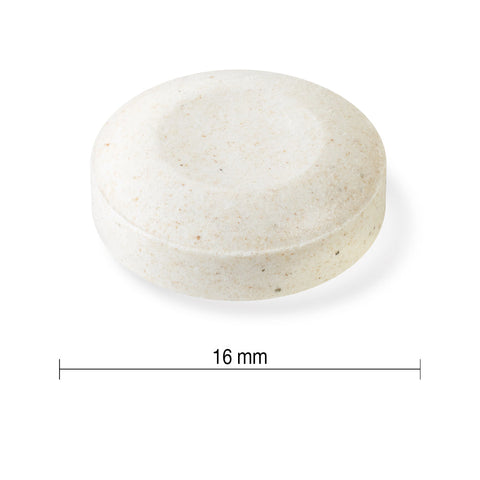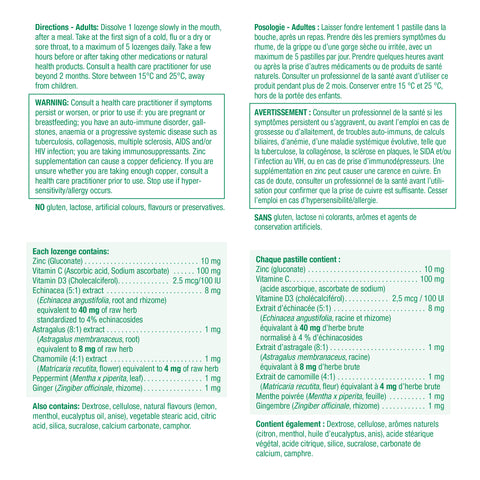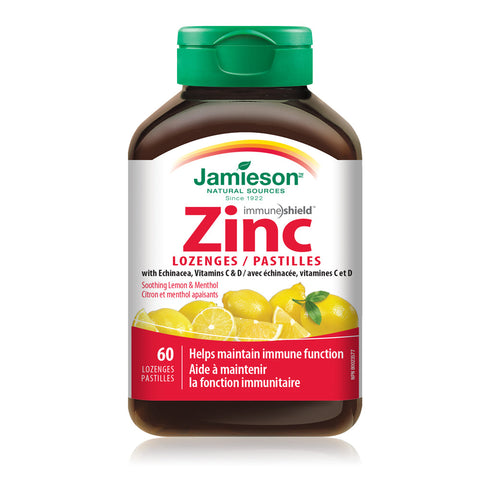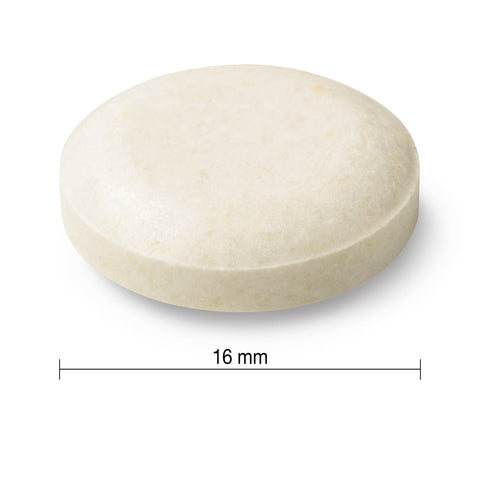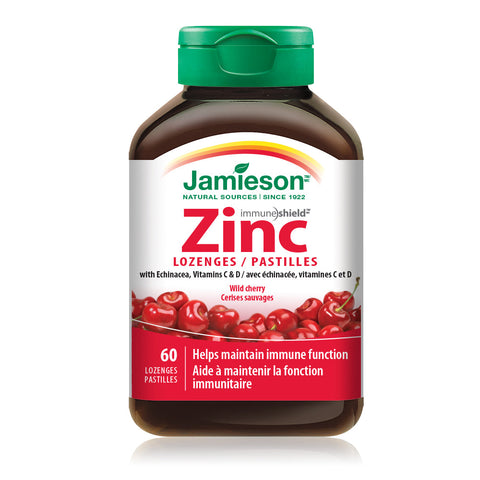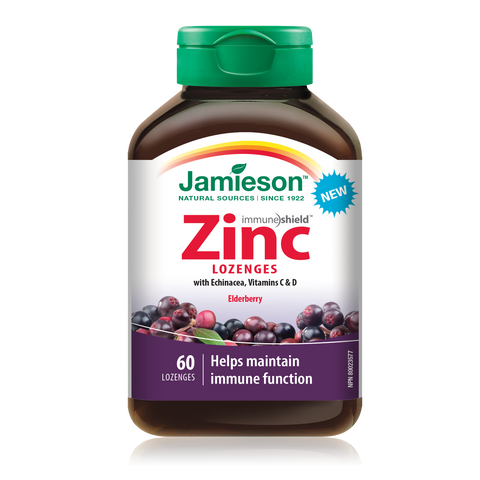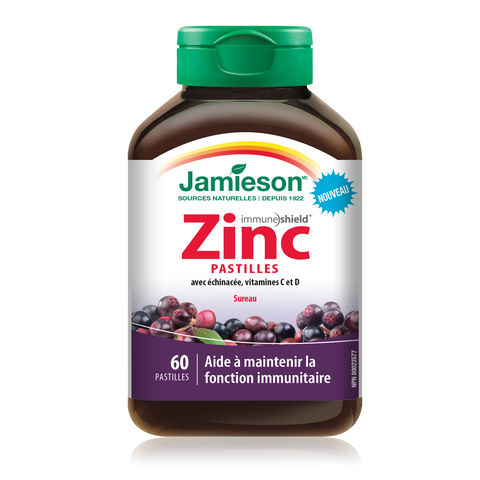 Zinc Lozenges
SKU: 4962
Barcode: 64642049629
For The First Signs Of A Cold
Jamieson Zinc Lozenges are formulated with highly bioavailable zinc citrate, Vitamin C, Vitamin D and Echinacea to enhance the immune system's virus-fighting power and help maintain optimal health. They dissolve quickly so the body can readily absorb the active ingredients, which provide quick relief from cold and flu symptoms.
Helps support healthy immune function
Provide natural relief from symptoms of the common cold such as dry, sore throats
Source of antioxidants
Soothing and delicious, with no zinc aftertaste
With Vitamin C, Vitamin D3 and Echinacea
Ingredients
Each Lozenge Contains:
Zinc (Gluconate) 10 mg
Vitamin C (Ascorbic acid, Sodium ascorbate) 100 mg
Vitamin D3 (Cholecalciferol) 2.5 mcg / 100 IU
Echinacea (5:1) extract (Echinacea angustifolia, root and rhizome)Equivalent to 40 mg of raw herb; Standardized to 4% Echinacosides 8 mg
Astragalus (8:1) extract (Astragalus membranaceus, root) Equivalent to 8 mg of raw herb 1 mg
Chamomile (4:1) extract (Matricaria recutita, flower) Equivalent to 4 mg of raw herb 1 mg
Ginger (Zingiber officinale, rhizome) 1 mg
Peppermint (Mentha x piperita, leaf) 1 mg
Non-Medicinal Ingredients:
Dextrose, citric acid, cellulose, natural wild cherry flavour, vegetable magnesium stearate, silica, sucralose.
NO gluten, lactose, artificial colours or flavours.
Directions
Adults 19 years and older: Take at first sign of cold, flu and dry or sore throat, to a maximum of 5 lozenges daily. Dissolve lozenges slowly in the mouth, after a meal. Take a few hours before or after takingother medications. Store between 15°C and 25°C, away from children. Do not use if blister pack is broken.
Number of Servings: 6 - 30
Warnings
Consult a health care practitioner if symptoms persist or worsen, or prior to use if: you are pregnant or breastfeeding; you have an auto-immune disorder, gallstones, anaemia or a progressive systemic disease such as tuberculosis, collagenosis, multiple sclerosis, AIDS and/or HIV infection; you are taking immunosuppressants. Zinc supplementation can cause a copper deficiency. If you are unsure whether you are taking enough copper, consult a health care practitioner prior to use. Do not use if you are allergic to plants of the Asteraceae/ Compositae/ Daisy family.
Stop use if hypersensitivity/allergy occurs
Ingredient Spotlight:
Zinc
Our 360° Quality™ Promise
At Jamieson, being Here For Your Health means a commitment to the highest quality standards, from ingredient sourcing to the shelf.
This commitment is part of the reason we're Canada's most trusted health and wellness brand.