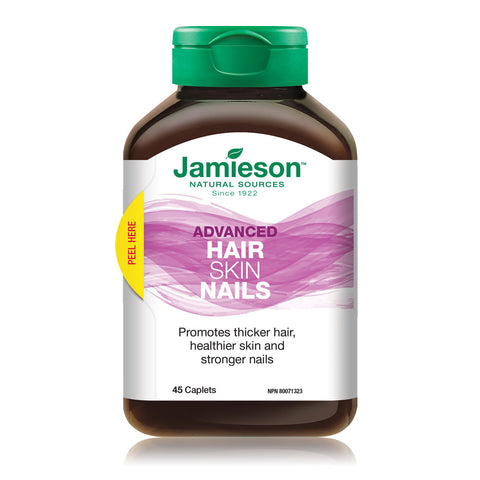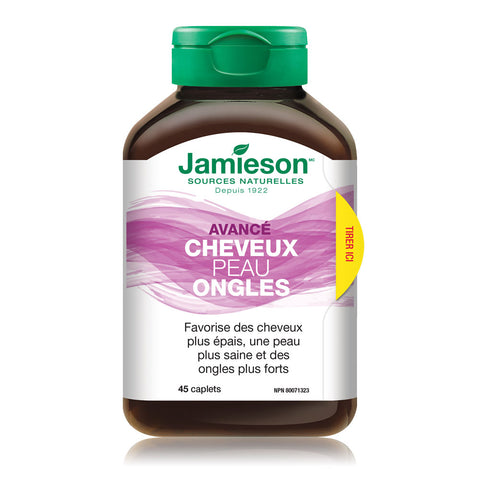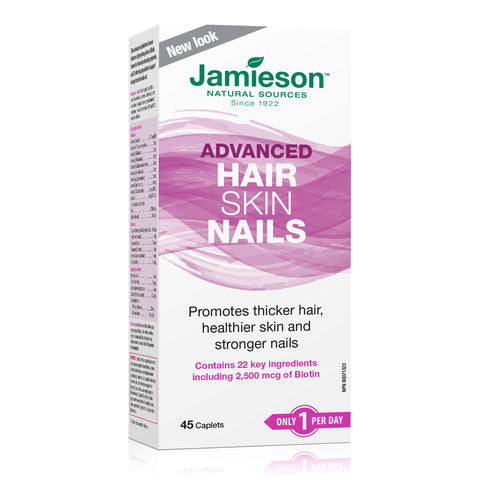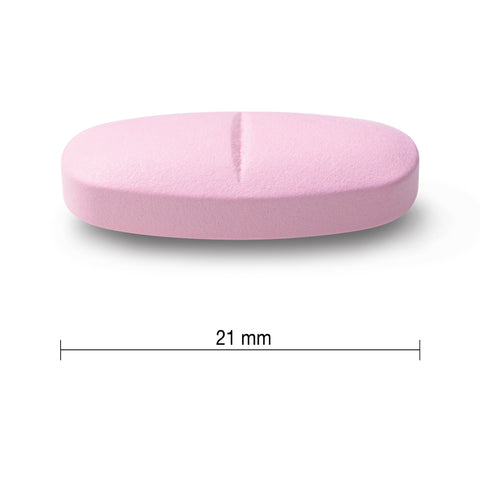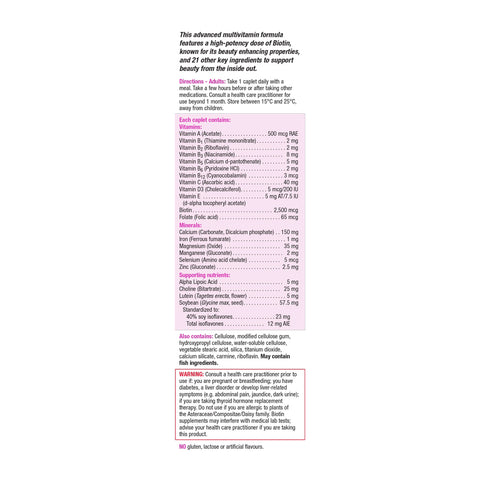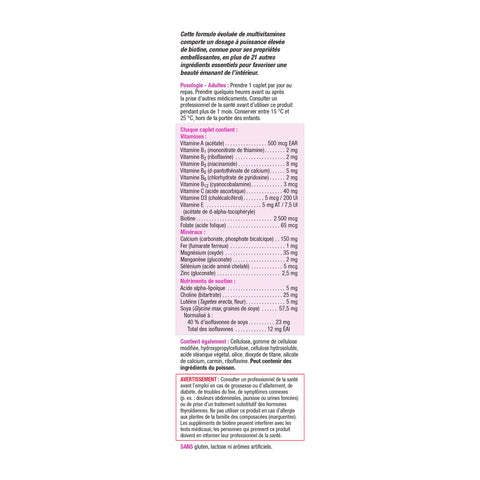 Hair, Skin, Nails | Advanced
SKU: 7858
Barcode: 64642078582
High Potency Biotin + Natural Beauty Nutrients
Look and feel your best with Jamieson Advanced Hair, Skin & Nails! This advanced multivitamin formula features a high-potency dose of Biotin, known for its beauty enhancing properties, and 21 other key ingredients to support beauty from the inside out. Enjoy 1 caplet daily to support stronger, healthier, hair, skin and nails. This convenient once-a-day formula contains a high potency dose of biotin to strengthen nails, support hair growth and healthier skin.
Promotes thicker hair, stronger nails, and healthier skin
Contains 22 key ingredients including 2,500 mcg of Biotin
Only one per day formula
Ingredients
Each Caplet Contains:
Vitamin A (Acetate) 500 mcg RAE
Vitamin B1 (Thiamine mononitrate) 2 mg
Vitamin B2 (Riboflavin) 2 mg
Vitamin B3 (Niacinamide) 8 mg
Vitamin B5 (Calcium d-pantothenate) 5 mg
Vitamin B6 (Pyridoxine HCl) 2 mg
Vitamin B12 (Cyanocobalamin) 3 mcg
Vitamin C (Ascorbic acid) 40 mg
Vitamin D3 (Cholecalciferol) 5 mcg/200 IU
Vitamin E (d-alpha tocopheryl acetate) 5 mg AT/7.5 IU
Biotin 2,500 mcg
Folate (Folic acid) 65 mcg
Minerals
Calcium (Carbonate, dicalcium phosphate) 150 mg
Iron (Ferrous fumarate) 1 mg
Magnesium (Oxide) 35 mg
Manganese (Gluconate) 2 mg
Selenium (Amino acid chelate) 5 mcg
Zinc (Gluconate) 2.5 mg
Supporting Nutrients
Alpha Lipoic Acid 5 mg
Choline (Bitartrate) 25 mg
Lutein (Tagetes erecta, flower) 5 mg
Soybean (Glycine max, seed) 57.5 mg
Std. to 40% Soy isoflavones 23 mg
Total isoflavones 12 mg AIE
Non-Medicinal Ingredients:
Cellulose, modified cellulose gum, hydroxypropyl cellulose, water-soluble cellulose, vegetable stearic acid, silica, titanium dioxide, calcium silicate, carmine, riboflavin. May contain fish ingredients.
NO gluten, lactose, or artificial flavours
Directions
Adults: Take 1 caplet daily with food. Take a few hours before or after taking other medications. Consult a health care practitioner for use beyond 4 weeks. Store between 15°C and 25°C, away from children.
Number of Servings:
Warnings
Consult a health care practitioner prior to use if: you are pregnant or breastfeeding; you have diabetes, a liver disorder or develop liver-related symptoms (e.g. abdominal pain, jaundice, dark urine); if you are taking thyroid hormone replacement therapy. Do not use if you are allergic to plants of the Asteraceae/Compositae/Daisy family. Biotin supplements may interfere with medical lab tests; advise your health care practitioner if you are taking this product.
Our 360° Quality™ Promise
At Jamieson, being Here For Your Health means a commitment to the highest quality standards, from ingredient sourcing to the shelf.
This commitment is part of the reason we're Canada's most trusted health and wellness brand.