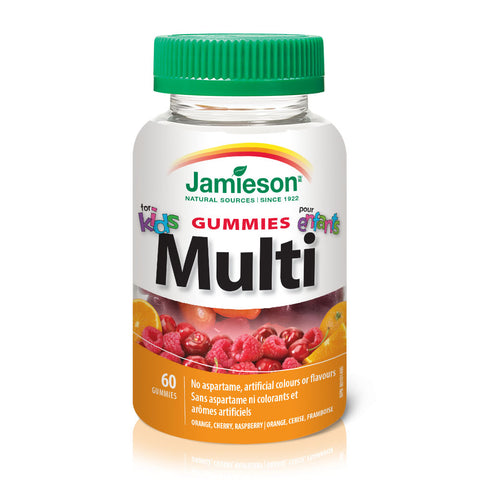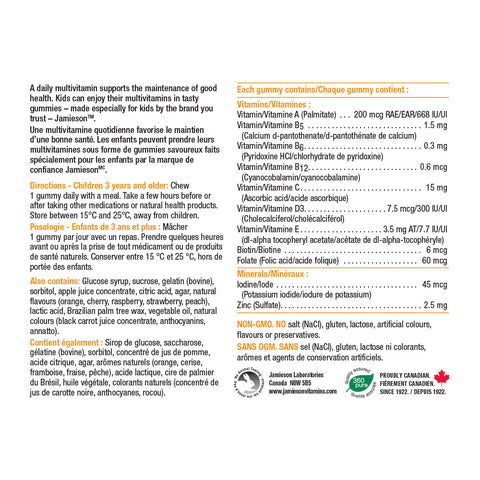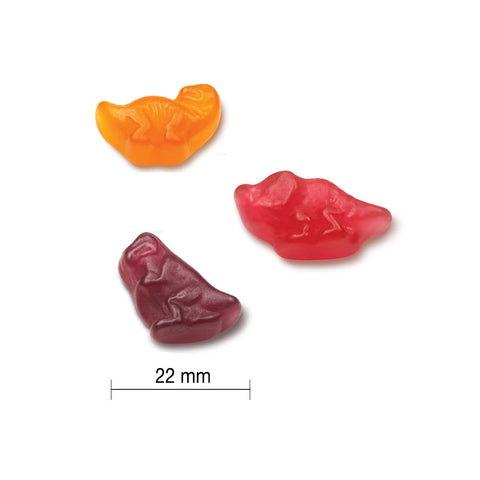 Multivitamin for Kids | Gummies
Short Dated: Expires 01/30/24. Final Sale.
SKU: 7878
Barcode: 64642078780
Essential Nutrients For Growing Bodies
Jamieson Multivitamin Gummies for Kids is a delicious daily multivitamin specifically formulated to nourish children's growing bodies with essential nutrients that promote healthy growth and development. Jamieson Multivitamin Gummies for Kids are iron free and come in 3 all natural delicious flavours for a kid-tested, mom approved experience!
Delicious gummies in three fruit flavours (orange, cherry, raspberry)
Provides essential vitamins for normal growth and development
Formulated with extra calcium and vitamin C
No aspartame, artificial colours or flavours
Ingredients
Each Gummy Contains:
Vitamins:
Vitamin A 200 mcg RAE/668 IU
(Palmitate)
Vitamin B5 1.5 mg
(Calcium d-pantothenate)
Vitamin B6 0.3 mg
(Pyridoxine HCl)
Vitamin B12 0.6 mcg
(Cyanocobalamin)
Vitamin C 15 mg
(Ascorbic acid)
Vitamin D3 7.5 mcg/300 IU
(Cholecalciferol)
Vitamin E 3.5 mg AT/7.7 IU
(dl-alpha tocopheryl acetate)
Biotin 6 mcg
Folate (Folic acid) 60 mcg
Minerals :
Iodine 45 mcg
(Potassium iodide)
Zinc (Sulfate) 2.5 mg
Non-Medicinal Ingredients:
Glucose syrup, sucrose, gelatin (bovine), sorbitol, apple juice concentrate, citric acid, agar, natural flavours (orange, cherry, raspberry, strawberry, peach), lactic acid, Brazilian palm tree wax, vegetable oil, natural colours (black carrot juice concentrate, anthocyanins, annatto)
NO aspartame, salt (NaCl), gluten, lactose, artificial colours, flavours or preservatives.
Directions
Children 3 years and older: Chew 1 gummy daily with a meal. Take a few hours before or after taking other medications or natural health products. Store between 15°C and 25°C, away from children.
Number of Servings: 60
Warnings
Our 360° Quality™ Promise
At Jamieson, being Here For Your Health means a commitment to the highest quality standards, from ingredient sourcing to the shelf.
This commitment is part of the reason we're Canada's most trusted health and wellness brand.