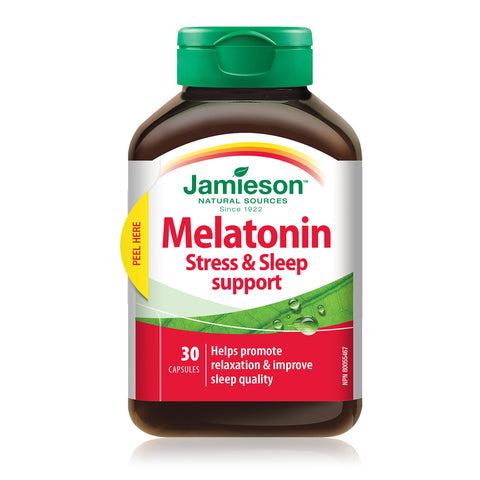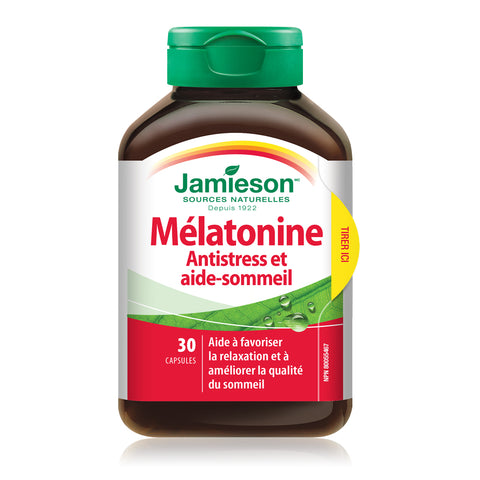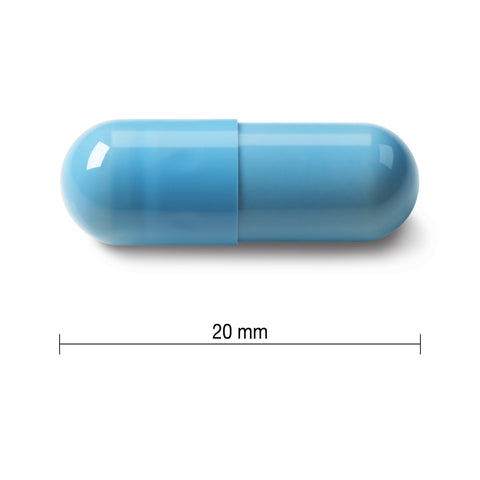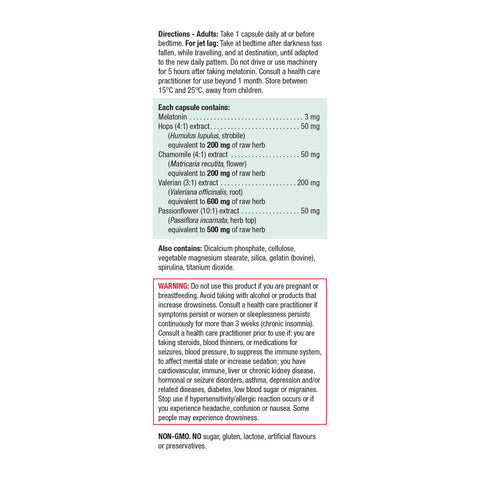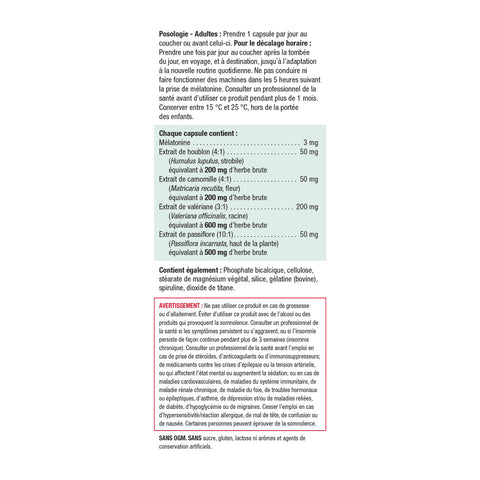 Melatonin Stress & Sleep Support
SKU: 7709
Barcode: 64642077097
Melatonin + Relaxing Herbs
Jamieson Stress and Sleep Support is a blend of melatonin, valerian, passionflower, chamomile, and hops extract. It helps you relax while reducing the time it takes to fall asleep.
Helps promote relaxation and improve sleep quality
Night time stress support formula with 3 mg of melatonin and a blend of herbs to promote relaxation
Natural, safe and non-habit forming sleep aid
Ingredients
Each Capsule Contains:
Melatonin3 mg
Hops (4:1) extract 50 mg
(Humulus lupulus, strobile)equivalent to 200 mg of dried herb
Chamomile (4:1) extract 50 mg
(Matricaria recutita, flower) equivalent to 200 mg of dried herb
Valerian (3:1) extract 200 mg
(Valeriana officinalis, root) equivalent to 600 mg of dried herb
Passionflower (10:1) extract 50 mg
(Passiflora incarnata, herb top) equivalent to 500 mg of dried herb
Non-Medicinal Ingredients:
Dicalcium phosphate, cellulose, vegetable magnesium stearate, silica, gelatin (bovine), spirulina, titanium dioxide.
NON-GMO. NO sugar, gluten, lactose, artificial flavours or preservatives.
Directions
Adults: Take 1 capsule at or before bedtime. Do not drive or use machinery for 5 hours after taking melatonin. Consult a healthcare practitioner for use beyond 1 month. For jet lag: For occasional short-term use, take once a day at bedtime after darkness has fallen, while travelling, and at destination, until adapted to the new daily pattern.
Number of Servings: 30
Warnings
Do not use this product if you are pregnant or breastfeeding. Avoid taking with alcohol or products that increase drowsiness. Consult a health care practitioner if symptoms persist or worsen or sleeplessness persists continuously for more than 3 weeks (chronic insomnia). Consult a health care practitioner prior to use if: you are taking steroids, blood thinners, or medications for seizures, blood pressure, to suppress the immune system, to affect mental state or increase sedation; you have cardiovascular, immune, liver or chronic kidney disease, hormonal or seizure disorders, asthma, depression and/or related diseases, diabetes, low blood sugar or migraines. Stop use if hypersensitivity/allergic reaction occurs or if you experience headache, confusion or nausea. Some people may experience drowsiness.
Ingredient Spotlight:
Melatonin
Our 360° Quality™ Promise
At Jamieson, being Here For Your Health means a commitment to the highest quality standards, from ingredient sourcing to the shelf.
This commitment is part of the reason we're Canada's most trusted health and wellness brand.