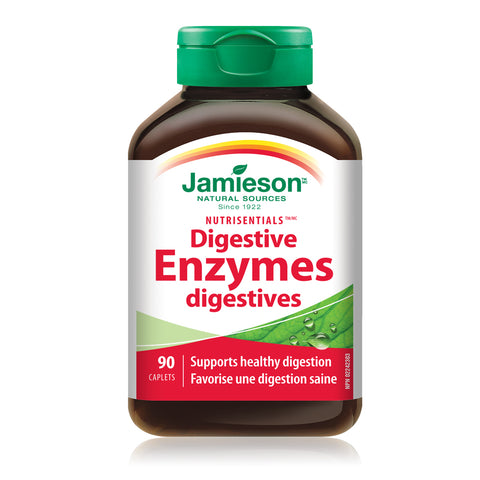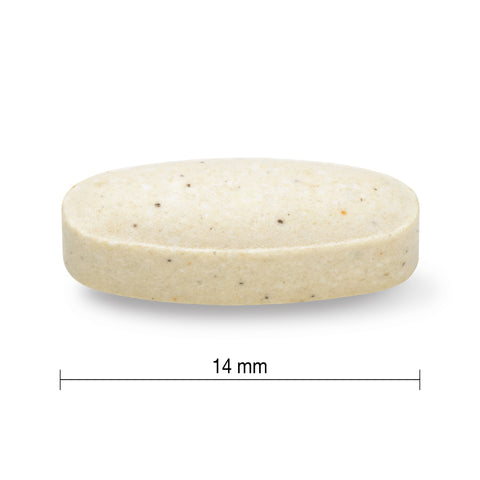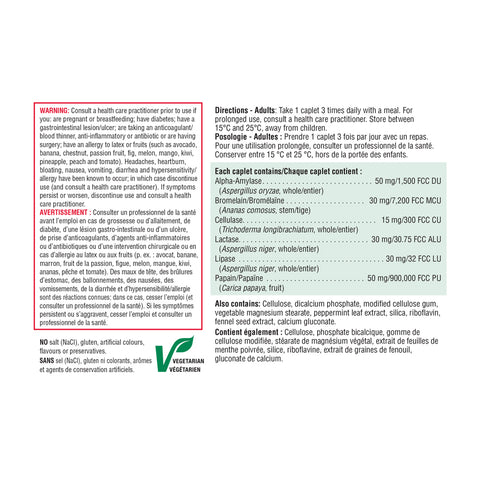 Nutrisentials Digestive Enzymes
SKU: 2718
Barcode: 64642027184
Full Spectrum Digestive Enzymes
This full spectrum of digestive enzymes helps digest protein, carbohydrates and fats. Unique formula containing the enzymes papain, bromelain, lipase, amylase, lactase and cellulase.
Supports healthy digestion
Provides a full spectrum of digestive enzymes: papain, bromelain, lipase, amylase, lactase, and cellulase
Formulated using plant-sourced enzymes
A source of digestive enzymes for the maintenance of good health
Vegetarian and Gluten-Free
Ingredients
Each Caplet Contains:
Alpha-Amylase (Aspergillus flavus var. oryzae, whole) 50 mg/1,500 FCC DU
Bromelain (Ananas comosus, stem) 30 mg/7,200 FCC MCU
Cellulase(Trichoderma longibrachiatum, whole) 15 mg/300 FCC CU
Lactase(Aspergillus niger, whole) 30 mg/30.75 FCC ALU
Lipase(Aspergillus niger, whole) 30 mg/32 FCC LU
Papain(Carica papaya, fruit) 50 mg/900,000 FCC PU
Non-Medicinal Ingredients:
Cellulose, dicalcium phosphate, modified cellulose gum, vegetable magnesium stearate, peppermint leaf extract, silica, riboflavin, fennel seed extract (foeniculum vulgare), calcium gluconate.
NO salt (NaCl), gluten, lactose, artificial colours, flavours or preservatives.
Directions
Adults: Take 1 caplet 3 times daily with a meal. For prolonged use, consult a health care practitioner. Store between 15°C and 25°C, away from children.
Number of Servings: 30
Warnings
Consult a health care practitioner prior to use if you: are pregnant or breast-feeding; have diabetes; havea gastrointestinal lesion/ulcer; are taking ananticoagulant/blood thinner, anti-inflammatory or antibiotic or are having surgery; have an allergy to latex or fruits (such as avocado, banana, chestnut, passionfruit, fig, melon, mango, kiwi, pineapple, peach and tomato). Headaches, heartburn, bloating, nausea,vomiting, diarrhea and hypersensitivity/allergy have beenknown to occur; in which case discontinue use.If symptoms persist or worsen,discontinue use and consult a health care practitioner.
Our 360° Quality™ Promise
At Jamieson, being Here For Your Health means a commitment to the highest quality standards, from ingredient sourcing to the shelf.
This commitment is part of the reason we're Canada's most trusted health and wellness brand.