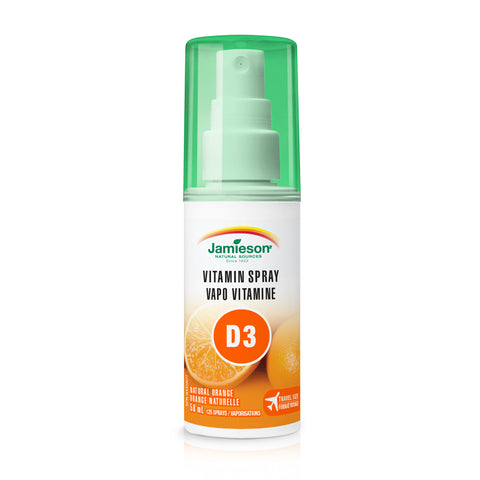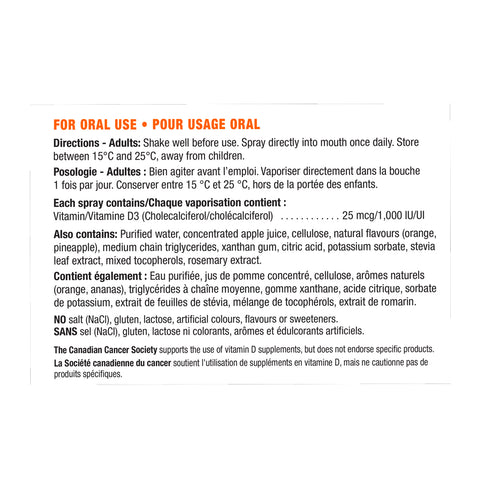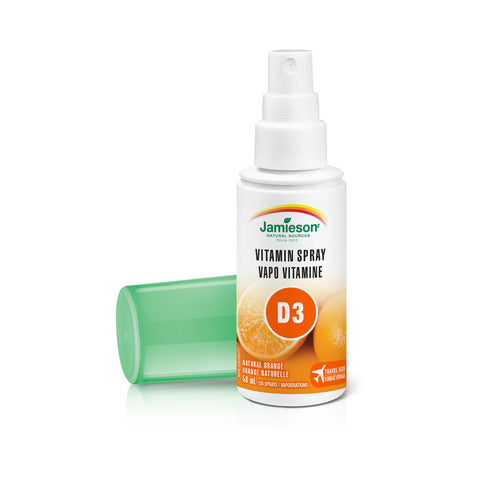 Vitamin D3 1,000 IU | Spray
Short Dated: Expires 11/2024. Final Sale.
SKU: 7862
Barcode: 64642078629
Supports Immune & Bone Health
Jamieson Vitamin D3 1,000 IU Spray is a delicious and convenient way to get 1,000 IU of vitamin D3 in just one second! It can play a key role in the maintenance of good health while promoting the development of bones and teeth and helping the body effectively absorb calcium.
Helps in the development and maintenance of bones and teeth
Helps in the absorption and use of calcium and phosphorous
Helps to prevent vitamin D deficiency
Delicious, easy to use and travel friendly
Helps support a healthy immune system and bone health
Ingredients
Each Spray Contains:
Vitamin D3 (Cholecalciferol) 25 mcg/1000 IU/spray
Non-Medicinal Ingredients:
Purified water, apple juice concentrate, cellulose, natural flavours (orange, pineapple), medium chain triglycerides, xanthan gum, citric acid, potassium sorbate, Stevia leaf extract, mixed tocopherols, rosemary extract.
NO Salt (NaCl), gluten, lactose, articifial colours, flavours or sweeteners.
Directions
Adults: Shake well before use. Spray directly into mouth once daily. Store between 15°C & 25°C, away from children.
Number of Servings: 125
Warnings
Ingredient Spotlight:
Vitamin D3
Our 360° Quality™ Promise
At Jamieson, being Here For Your Health means a commitment to the highest quality standards, from ingredient sourcing to the shelf.
This commitment is part of the reason we're Canada's most trusted health and wellness brand.